EVENT LANDING PAGES
Beautifully designed landing pages.

Customizable for specific initiatives
Examples: College recruiting, Diversity recruiting, Military recruiting, etc.

Mobile friendly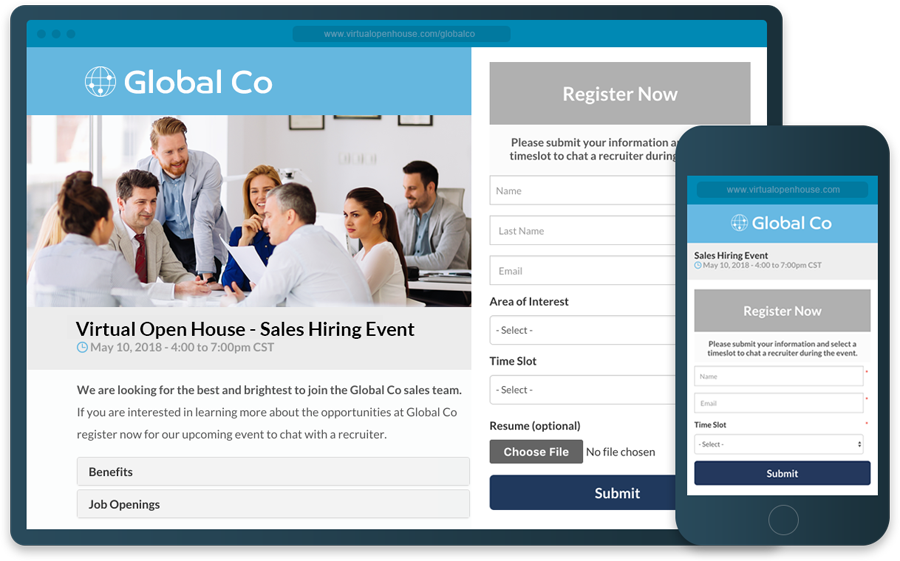 EVENT REGISTRATION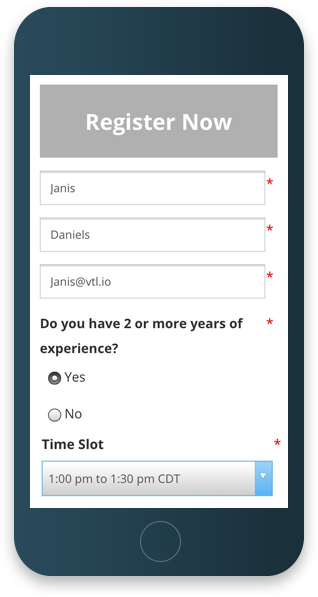 "Smart" Candidate Scheduling Features
Scheduling can be conditional based on candidate's answer to screener questions, filtering unqualified candidates

Scheduling is in-line with registration, allowing for higher conversion rates

You can use our landing pages for in-person event or interview scheduling too!
BRANDED COMMUNICATIONS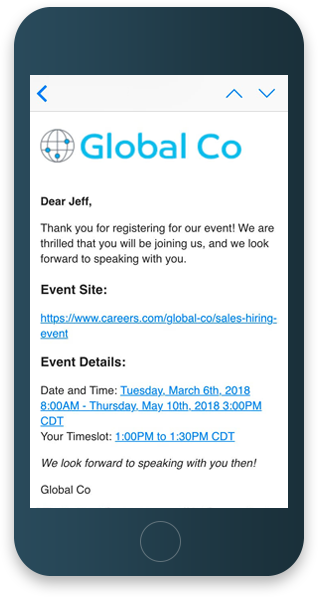 Branded communications will increase show-rates and provide valuable touchpoints with candidates.
 Automated Confirmation

Reminder emails

SMS texts
CANDIDATE MANAGEMENT
View and download all candidate registration data, take notes, and use company specific statuses to keep track of where candidates are in your hiring funnel.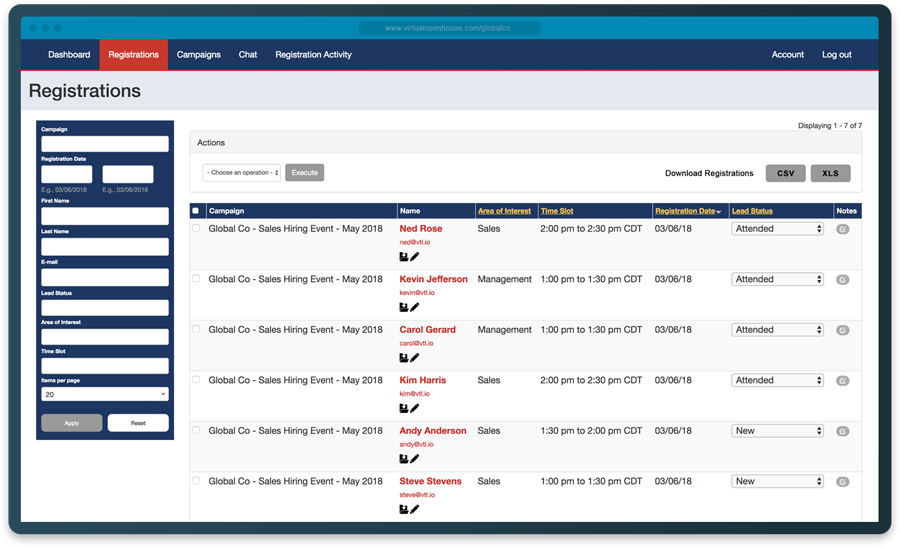 CANDIDATE DATA INTEGRATION
Candidate Data (including chat logs, notes, resumes, statuses) is saved and can be passed to your ATS or CRM.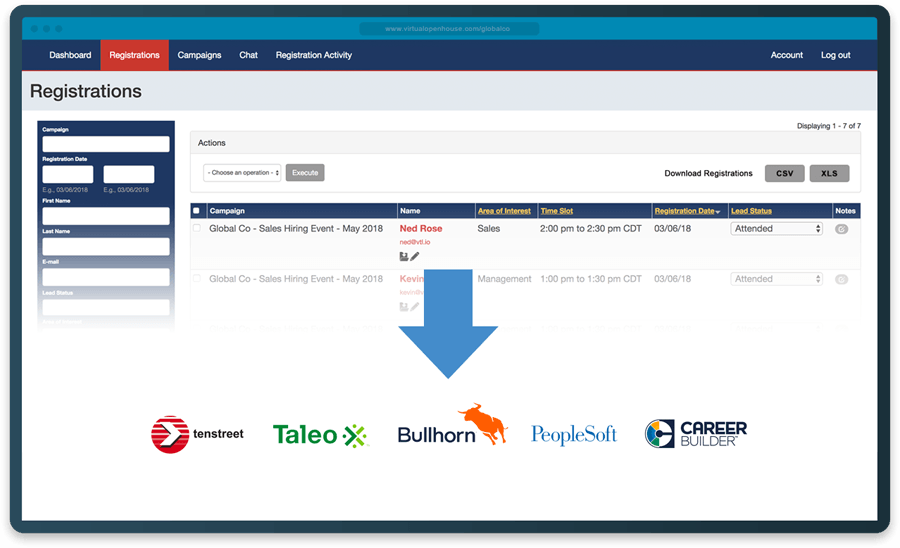 CHAT INTERFACE
Connect with candidates in real time via the intuitive chat event interface.

Chat with candidates while viewing their registration data, take notes and change candidate statuses, or transfer candidates to other logged in recruiters.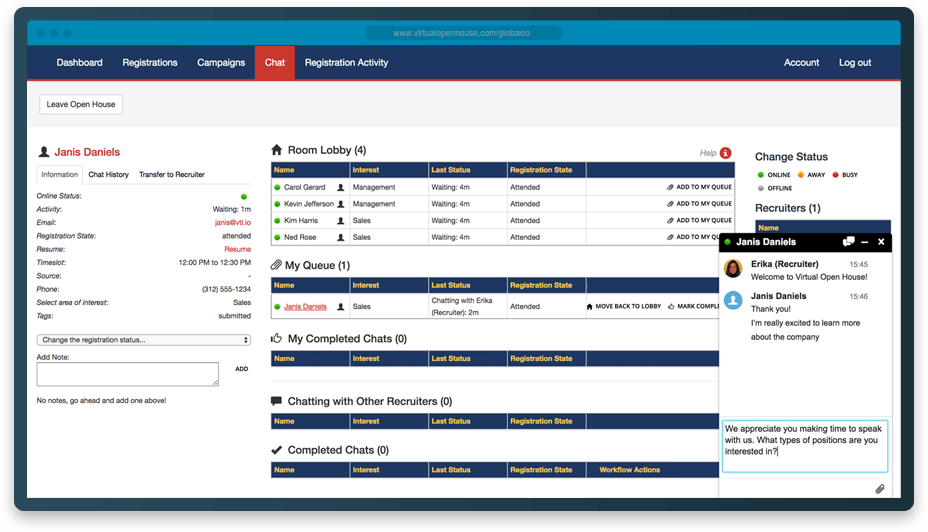 EVENT ANALYTICS
Landing page analytics – See unique visitors, conversion rates, trends.

Event analytics – See how many candidates came to the event, how many chats recruiters had with candidates, how long they chatted with them, etc.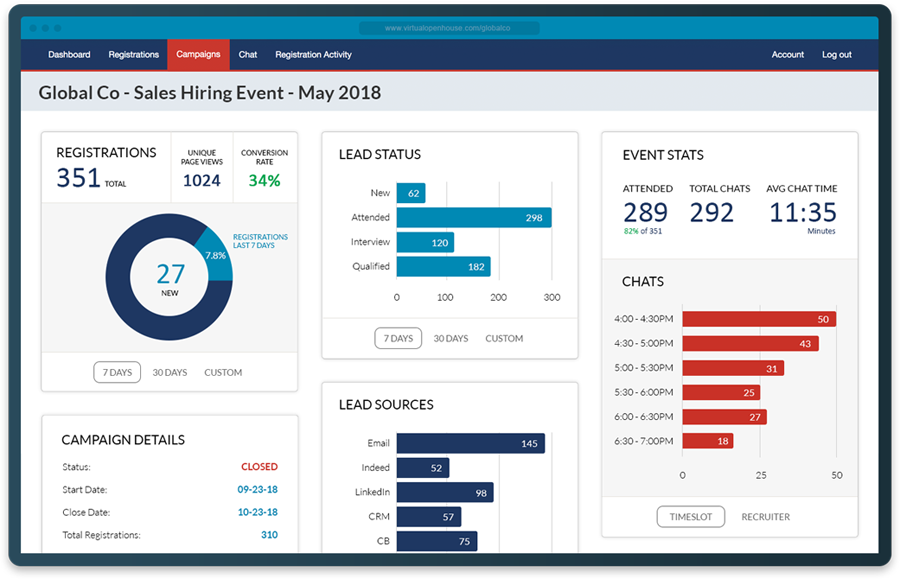 CANDIDATE PROMOTION
Media – We are proudly partnered with CareerBuilder.com to help drive candidates to your events. CB's Talent Driver Group are experts in marketing strategy and optimization and will work to create the perfect mixture of media to deliver you the most relevant candidates for your Virtual Open House events.

Custom Sourcing Solutions – We can assist your team in sourcing candidates using a variety of media sources to drive qualified traffic to events.

Optimization – With candidate source tracking, we will help you identify the media that delivers the best results.

TRAINING AND SUPPORT
Onboarding – A project manager will guide you through project kick-off, landing page design and platform configuration. Their goal is to make your onboarding a smooth and simple process.

Team training – A mock event will be scheduled before your first live event, where your team will learn the platform and get any questions answered.

Event support – A VOH technician will be logged in during events for technical troubleshooting or questions.